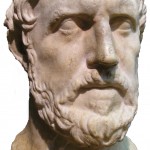 The nonprofit Reading Odyssey is a partnership between scholars and readers with a mission to help more adults reignite their curiousity and lifelong learning.
See our Board of Directors and apply for a spot in our internship program.
2014 – 2015 programs
Herodotus Reading Group 
We will be reading the wonderful Herodotus starting in September 2014. Please join us for this global reading group. More information and registration:
https://herodotus2014.eventbrite.com
Lucretius Reading Group
We will also be reading Lucretius' De Rerum Natura (The Nature of Things) beginning in September 2014.  Here is the link to register:
https://lucretius2014.eventbrite.com
Web presence
We are currently redesigning our web presence, digital archive and social media strategy.
See our search and tags to the right for more information on previous books from Aristotle to Darwin and Shakespeare. Thank you.