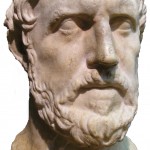 The nonprofit Reading Odyssey is a partnership between scholars and readers with a mission to help more adults reignite their curiosity and lifelong learning.
See our Board of Directors and apply for a spot in our internship program.
Come join us for our Herodotus reading group starting in February, 2020!
Give yourself a gift this holiday season and join us for reading Herodotus in 2020 — and experience the power of reading not just the first book ever written but the the first and still one of the best histories of all time.
You can register for this reading group here.